MYTH
A lightning protection system will attract lightning.
TRUTH
A lightning protection system will not attract lightning but offers a safe path for it to follow, which allows the strike to travel safely to ground.
WHERE WE INSTALL
Residential Homes
Our lightning protection systems provide a safe path to the ground for lightning should it strike your home. Most systems will last the life of the home with little or no maintenance, making lightning protection a one time cost. Protect your family from lightning hazards such as electrocution and structural damage with a lightning protection system from Island Lightning Rod.
Commercial Buildings
For a business a lightning strike can be much more destructive than simply causing physical damage to the interior ot exterior of your building. Surges through telecommunications lines can damage computers, equipment, and software causing down time and significant replacement costs. Protecting your business or commercial building with a lightning protection system is a smart investment.
Industrial Buildings
Protect your industrial site from Lightning Strikes which can easily cause damage to processing or production equipment resulting in costly downtime and lost work hours. A well designed and properly installed lightning protection system for an Industrial Site can prevent lightning damage before it happens, saving you money from extensive damage to equipment which may need to be repaired or replaced.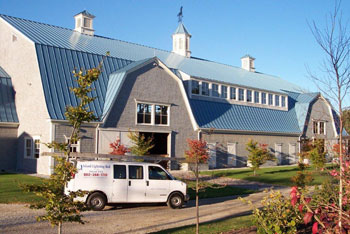 Other Installations
Historic landmarks
Water, Equipment, and Viewing Towers
Churches
Golf Courses
DESIGN & LAYOUT
Island Lightning Rod Co. Ltd.
can provide the following design and layout services:
Auto CAD engineering and design services
Complete Installation submittal drawings
Design Support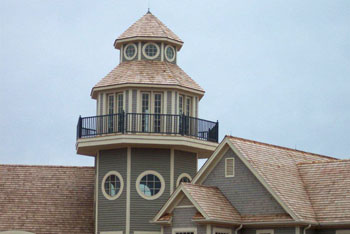 Upon receipt of structural drawings, blueprints or AUTOCAD files we can prepare detailed specifications covering any size building or project. We have the ability to prepare engineered drawings and specifications including everything necessary to provide a complete lightning protection system meeting the requirements of the Canadian Standards Association (CSA), Underwriters Laboratories (UL), National Fire Protection Association (NFPA) and the Lightning Protection Institute (LPI).
INSTALLATIONS
Concealed or Exterior Installations
Our exterior installations are done in a very discreet manner, running cables down corners, behind down spouts, and along roof ridges. Copper or tin colored wire can be chosen based on the aesthetic of your home. New constructions have the unique opportunity of installing fully concealed systems. This type of concealed lightning protection, installed prior to insulation, features all cables running inside the structure. The only thing visible is the lightning rods themselves.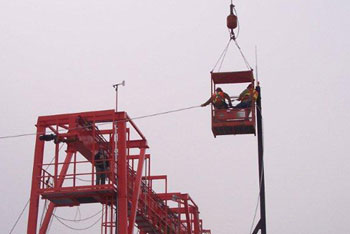 Ground Resistance Testing
One of the vital parts of any lightning protection system or electrical system is the grounding. The grounding which is made up of ground electrodes is what discharges the energy safely into the ground. When a lightning protection system has been designed and installed, it is required to measure and confirm the earth resistance between the ground electrodes and soil. The testing method Island Lightning Rod uses for measuring the ground resistance of an electrode is the 3-Point "Fall of Potential" method.
Technical and On Site Service
Island Lightning Rod is pleased to provide site and technical support to engineers, contractors, architects, and property owners requiring assistance.
Certification of Lightning Protection Systems
Following the installation of your lightning protection system, Island Lightning Rod Co Ltd will present you with a document of certification. This certification guarantees the installation meets all code & safety requirements, as outlined by the CSA B72 Code for Lightning Protection Systems. Certification sets standards on system design, material used, and installation guidelines.
CUSTOMERS
Here are a few of the clients that Island Lightning Rod has had the privilege of working with: